Skip to Content
Flat Roofing Products We Use to Complete Projects
Our clients expect exceptional workmanship and structural protection that will last, and Magnum Commercial delivers on that expectation with outstanding workmanship by our team of the area's best tradesmen. We strive to make every client's project as pleasant and convenient as possible with the best results. Part of ensuring our clients' safety and satisfaction is using the roofing industry's most trusted products and materials to complete flat roofs. Whether you have a commercial property or a residential structure, we maintain our commitment to quality in our work and products, backed by some of the industry's best warranties.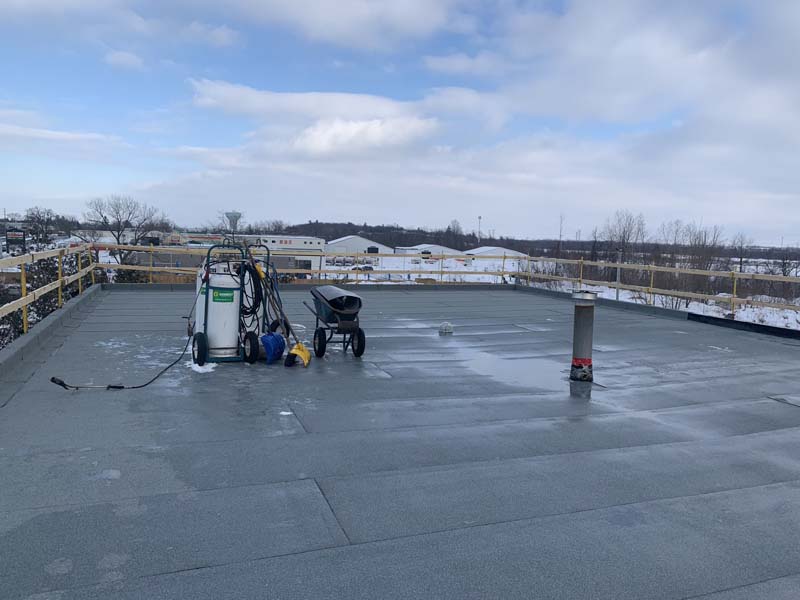 Proudly Serving Ottawa & Surrounding Areas
Magnum Commercial will gladly start your project with a free one price estimate, which comes with our price guarantee. We make your experience as pleasant as possible, from the initial conversation to our thorough site cleanup.
Products From Brands the Roofing Industry Trusts
Magnum Commercial puts our faith in some of the roofing industry's most trusted product and material brands. We invest in top-quality products to ensure we complete projects with the best possible results. Our collection of roofing products and materials includes the following brands:
Garland®
Our company trusts Garland®'s products because of their quality and efficacy on flat roofs. We use many of their dependable products to complete projects at commercial and residential structures, such as fluid-applied membranes and roll roofing products. Their fluid-applied membranes provide robust and seamless waterproof protection with durable, fabric-reinforced systems. Roll roofing products create a stronger, more secure roofing assembly using a heat-resistant base and felt sheets with low-temperature flexibility.
Soprema®
Soprema®'s line of roofing products ensures durability and ease of application, making our roofing project results highly effective and long-lasting. This brand provides a wide array of products, including adhesives, air barriers, coatings, and composite boards. We acquire quality flat roofing products and materials to complete various roofing jobs like modified bitumen roofing systems.
Carlisle®
We trust Carlisle®'s product line to supply us with products and materials to complete flat roofing of various types. Their ethylene propylene diene monomer (EPDM) and thermoplastic polyolefin (TPO) roofing systems provide dependable protection from moisture and other elements threatening our clients' rooftops. With these products, we install durable, long-lasting, and waterproof surfaces on commercial and residential roofs.
Vicwest®
Vicwest® is a leading provider of various building products and materials, including metal composite panels for commercial roofs. Their products are durable and low maintenance, from hidden fastener cladding to structural steel roof bracing systems. They offer hidden fastener cladding and metal roof tiles for residential roofs, just to name a couple of examples.