Skip to Content
Spray-On Products to Protect Flat Roofing
Magnum Commercial's clients in and around Ottawa benefit from spray-on products in many ways. These protective coatings safeguard your roof against heat, water, rust, and other threats. Our team is comprised of the area's best tradesmen to ensure your roofing project gets the best possible results, but we also understand the importance of investing in top-quality products and materials, such as spray-on products from industry-trusted brands. We make sure every product we use meets or exceeds our high standards before applying it at any job.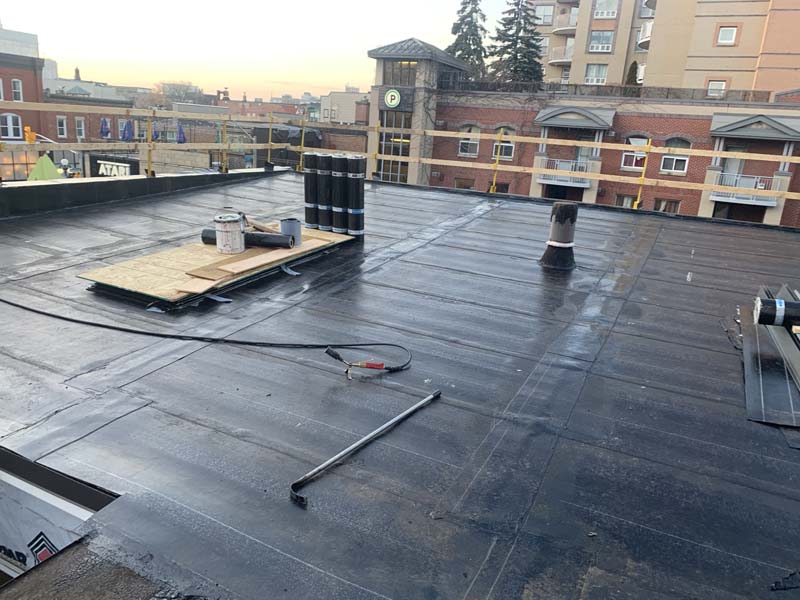 Serving Ottawa Homes & Businesses
Magnum Commercial backs all our work with a 10-year workmanship warranty, and you get additional peace of mind with many of the roofing industry's best warranties covering the products and results. We take pride in our work and strive to make every client's service experience as pleasant as possible with long-lasting satisfaction with their roof.
Garland® Coating Products of Various Types
Garland® is a brand trusted by roofing professionals because of its high-quality products, including coating products for flat roofs. Magnum Commercial values quality and efficacy in every product and material we use on a project. With Garland, we get outstanding results using any of the following options:
Restoration Coatings
A restoration coating is specifically formulated to be a waterproof coating, which is a cost-effective way to extend the life of your roof and protect it from moisture. Garland®'s lineup of restoration coatings includes an adhesion test kit, their highly rubberized CPR™ Base coat, Garla-Shield™ asphaltic emulsion restoration coating, and R-Mer Coating for industrial maintenance, making metal surfaces look like new.
Reflective Coatings
A reflective coating enhances a roof's appearance and protects it against ultraviolet (UV) degradation, extending its service life. You can also reduce your energy costs since this coating keeps your building cooler. Their reflective coatings include ENERGY-STAR®-certified Garla-Brite® highly reflective roof coating, Pyramic® white, water-based, non-toxic coating, Pyramic® Base Coat, a grey-tinted acrylic coating, and Pyramic® Plus LO, a bright white acrylic-urethane roof coating.
Primers
A primer is a preparatory coating we apply to promote coating or roll goods adhesion. It also inhibits rust development and works as a protective stain-blocking layer. Garland®'s collection of primers includes Black-Knight Primer, Eco-Seal Primer, Garla-Block™ Primer, Garla-Prime, Garla-Prime™ VOC, Insul-Lock HR Universal Primer, R-Mer Coat Primer, R-Mer Coat PVDF Primer, Rust-GO® Primer, and SA Primer™.