Skip to Content
Residential Flat Roofing at Ottawa Properties
With many years of experience serving the residential flat roofing needs of Ottawa and surrounding areas, Magnum Commercial has earned its place as one of the area's industry leaders. We employ the best tradesmen to comprise our team of roofing experts, all of whom appreciate your family's peace of mind and comfort. During any roofing project, we take special care to protect your property and personal belongings while we keep disruptions to your home and neighbors to a minimum at all times. Our combination of top-quality workmanship and roofing products ensures you get the best possible results on your residential flat roof repairs and installations. With our help waterproofing your roof, you can enjoy a safe and dry structure underneath.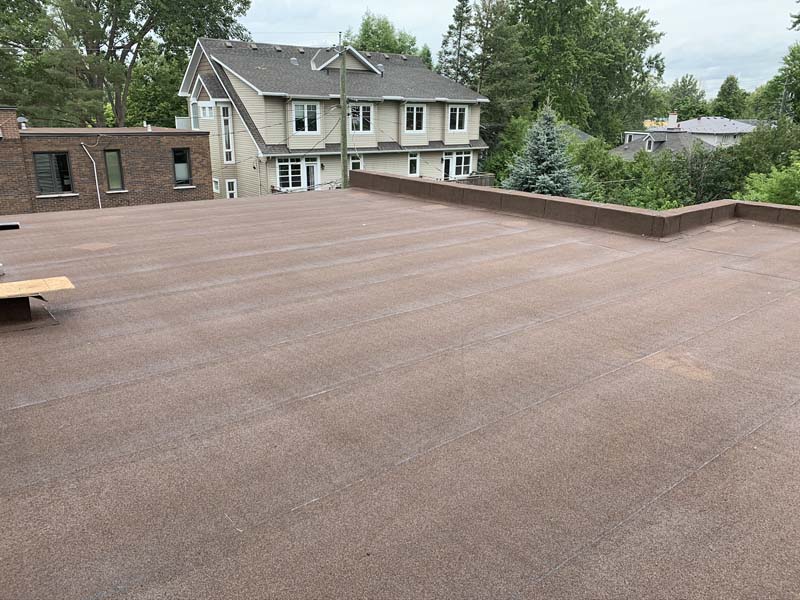 Count on 24/7 Emergency Repairs From Magnum Commercial
Magnum Commercial has your sudden roofing issues covered with 24/7 emergency repairs. No matter what time of day or night you notice a leak or any other problem, we are ready to respond and fix it quickly to restore your roof's integrity. We always provide free one-price estimates on our work and couple them with our price guarantee. You will never pay more than our initial estimate, even if we made a mistake.
Industry-Trusted Methods to Waterproof Your Roof
Residential flat roofs need dependable protection from rain, ice, and snow year-round. Magnum Commercial offers our clients three main methods to waterproof their roofs. We provide roof coating or liquid waterproofing, single-ply membrane roofing in the forms of EPDM and TPO systems, and reinforced bitumen membranes, otherwise known as modified bitumen. Below are descriptions of three of these options:
Modified Bitumen
For a low-slope roof, modified bitumen systems provide durability and weather resistance. We can install these systems using asphalts, the common torch method, or cold adhesives. Our team applies standard styrene butadiene styrene (SBS) modified bitumen roofing systems in rolls as two-ply systems overlapping the edge of the previous roll.
EPDM Single Layer Roofs
Roofing companies commonly use ethylene propylene diene monomer (EPDM) roofing systems' single-ply material on commercial buildings. We apply EPDM roofing systems in large rolls, varying in thickness and size, and we fully adhere, mechanically fasten, or ballast them. After applying the material to a roof, we use seam tape to seal the sheets' seems together to create a waterproof bond.
TPO Single Layer Roofs
If you want an environmentally friendly low slope single-ply roof, we recommend a thermoplastic polyolefin (TPO) roofing system. TPO is applied in large rolls with various thickness and size options, and we can fully ballast, adhere, or mechanically fasten it. After attaching the rolls to the roof, we hot air-weld the seams of the membrane, forming a very strong waterproof bond between the sheets.
Quality Service From Beginning to End
Magnum Commercial makes every client's service experience as pleasant as possible and ensures satisfaction starting with a free one price estimate. Our estimate comes with our price guarantee, so you never pay more than your initial estimate.